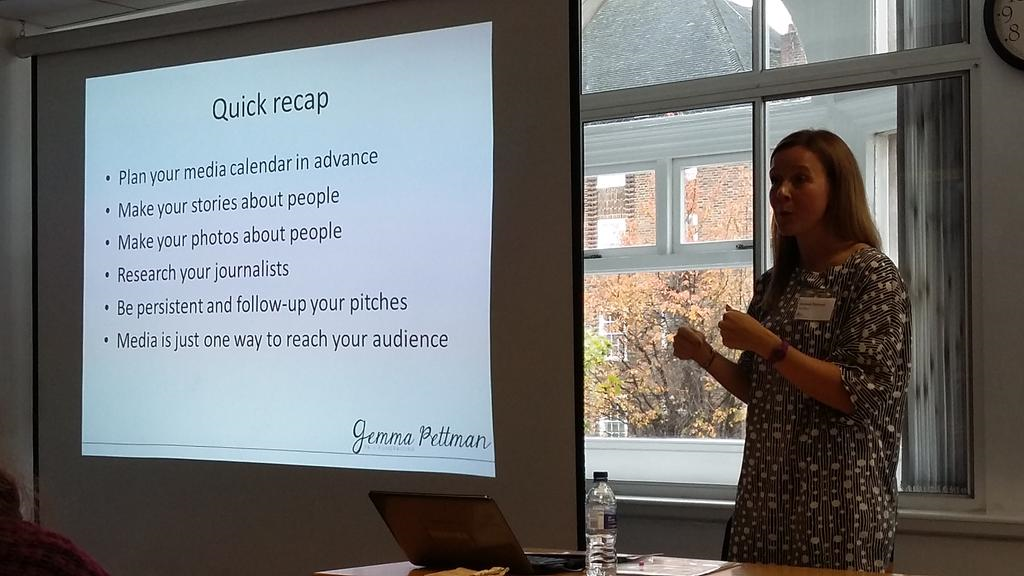 How to get more media coverage for your cause
Last week I had the pleasure of speaking at the Directory of Social Change Charity Writing and Communications training event on the subject of how good causes can achieve more media coverage. It's a topic that comes up time and time again with the charities I work with; while there are now more ways than ever to speak with supporters and beneficiaries, appearing in the papers or TV can do great things for an organisation's profile.
Below are the main topics I covered in my session at #charitywritecomms (you can find more tips from other speakers by scrolling through that Twitter hashtag), along with some resources I hope will prove useful to you.
Media planning
Planning an editorial calendar helps you tell the right story at the right time and find regional/national stories that can be hooks for your own. It doesn't have to look pretty, it just needs to work for you. For example, start by plotting on a wall planner relevant dates from the UK calendar (Christmas, Mother's Day, etc), the charity sector (Trustees week, National Mentoring day, etc) and your own charity calendar (anniversary of your founding, open days, etc). This will give you the basis for a simple editorial calendar.
Tip: Media Trust has some great guides, including 'Writing a PR Plan'
Develop the story
Make your story about people and try to tailor it to the publication you're targeting*.
Find an alternative to the 'big cheque' photo – an action shot or one which depicts how the money will be used is more likely to be picked up.
Get into the habit of regularly offering quotes in response to national/regional stories, after all, you're knowledgeable in your respective field so could help to explain an issue to an audience.
Consider any negatives – think about the trickiest question you could be asked and how you would answer it.
Remember, a good story isn't always an important story so there maybe occasions when you can have fun with a more light-hearted piece.
Tip: *Check out Charity:Water's media coverage for great examples of how different angles work for different media outlets.
Know what success looks like and how you will measure it
Given the limited resources most charities have, even those with a dedicated comms person, it's important we use time wisely and measure our impact. This starts with knowing what you're trying to achieve from your media coverage and making sure you have mechanisms in place to measure the outcomes. You might be looking to increase enquiries from potential beneficiaries, drive people to your website or grow your online following, for example. Web-based analytics will be helpful but you may need others within your organisation to help you determine an increase in telephone or email enquiries.
Identifying journalists
Identifying journalists often begins with identifying your audience and understanding which publications they're likely to read or radio stations they listen to, for example. In terms of local media I would suggest picking up the phone (avoiding deadline day!). See if you can visit the newsroom or at least chat with a reporter. You're ultimately trying to build a mutually-beneficial relationship and that can't be done by email alone.
In terms of regional, national and specialist media, you're going to need to do some digging. Many small charities don't have access to paid-for media databases but even if you do, a degree of research is vital to make sure you're targeting the right people. Establish who has recently written about your area of work by setting up Google Alerts, reading recent articles and opinion pieces that are relevant to your campaign, or following conversations on Twitter.
Tip: Sites like Journalisted could help you to track down contact details.
Making the pitch
Firstly, make sure you can summarise your story in one pithy sentence (or a Tweet) as doing so will help your pitch no end. In terms of other helpful advice, here's what one of my local journalists told me:
A formal press release is helpful but not essential (check out this post I wrote on structuring your press release).
Give me the nuts and bolts of the story, a link to your website and send the best hi res photo (or two) through as well.
Don't spend hours crafting a clever title for the press release – our subs will do that if we use the story.
But do put something in the email header so it catches my eye.
In summary, a punchy pitch, a pasted press release (in the body of the email – don't send attachments) and a link (such as Dropbox) to a couple of photos. And do follow up on your pitch; you might feel you're being annoying and you're unlikely to change a journo's mind if they're really not interested in your story, but you need to be sure they received the information in the first place.
Tip: Do you have an online newsroom which makes it easy for a journalist to read up on you? MND Association is just one example you may be able to emulate.
Capitalise on media coverage
Firstly, don't forget to thank the journalist who has covered your story. A note or a Tweet (who doesn't like a little public recognition?) will do down well. Share the coverage on your own website or social media so supporters who haven't seen it, or don't live in your immediate area, can take a look.
Tip: Consider also the knock-on effect of good media coverage. If it has helped you reach more people or prevented something negative from happening, you've got yourself a fresh angle. See this example from Christians Against Poverty for inspiration.
Don't get too hung up on media coverage
It may time to build relationships with journalists and create a culture of storytelling within your organisations so don't lose heart if you don't immediately hit the front pages. Keep creating and sharing content that appeals to your audience: blog posts; thought leaders; research results; photos; short videos or audio files of interviews with key staff, for example. If your followers are talking about it, this may create interest for the media.
There are plenty of examples of the media picking up stories from social media – such as this one following a burglary at a Sue Ryder charity shop.
Some useful resources to check out:
PR Stack – a crowd-sourced catalogue of PR tools and guides
Ask Charity – from Charity Comms matches journos to stories and spokespeople
Pressat – free press release distribution service
Don't forget to contact the umbrella organisation for charities or voluntary organisations in your local area.
If you have any more tips or have a media success story you would like to share, I would love to hear from you.