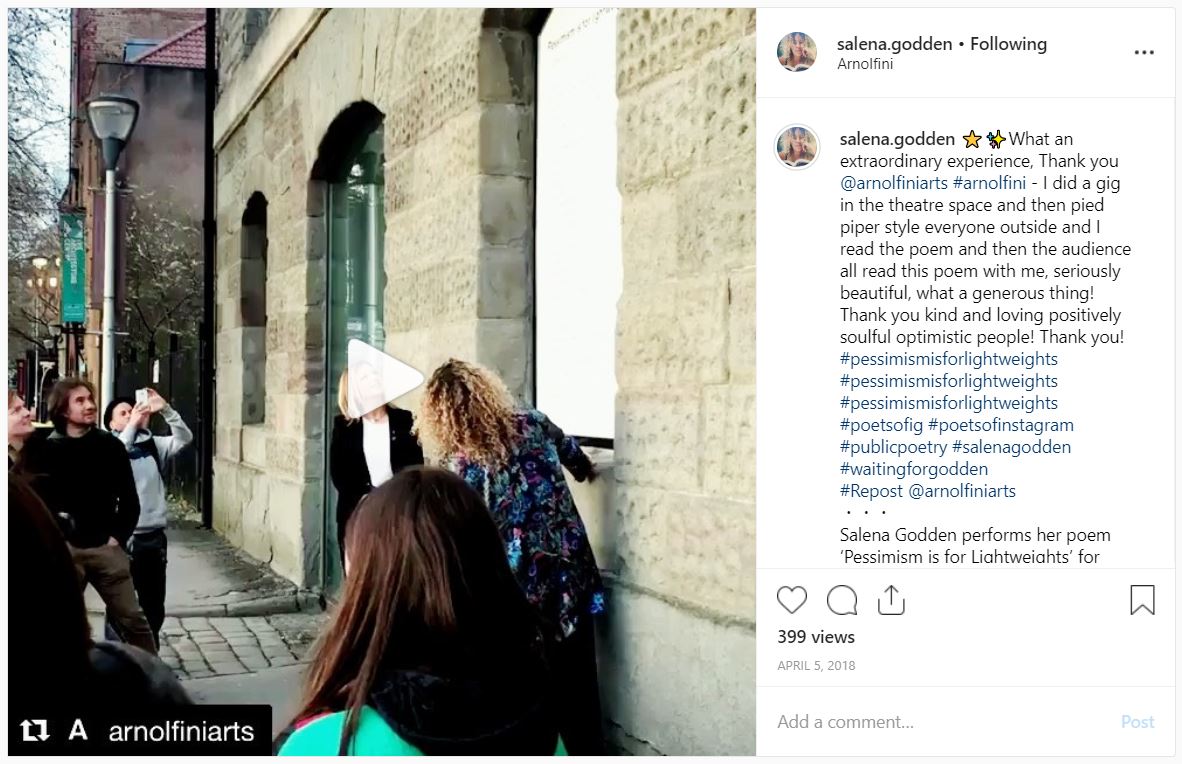 After the event: using social media to maintain momentum
Social media offers a cost-effective way to promote an event, attract and chat to potential attendees and involve them in what you're doing. Alongside offline activity such as advertising and media coverage, it can give your audience an insight into the vibe of the event and what to expect from taking part.
Whether your strategy involves a slow burn or a last-minute flurry of online activity the chances are you give more thought to the 'before' and 'during' stages of the event than what comes afterwards. It's common. You've worked on the project for weeks, if not months, and once it's done it's tempting to collapse in a heap and catch up on missed sleep.  Plus, the key was to get bums on seats, and you did that, so you don't need to put so much effort into your social media presence now, right?
Nope. Part of the reason social media works so well is that it can help you to build a loyal audience. Imagine if those same bottoms booked to be on your seats year after year? That's the aim and why your online activity after an event is just as important as in the run-up.
Here are some suggestions for content you can create (or find) and share with your followers after the event:
Thank you posts
You'll doubtless have a long list of people to thank after your event but try to avoid turning your feeds into something resembling an Oscar acceptance speech. Use a couple of photos from the event and thank key people who made the day happen but particularly your attendees.
The Kent MS Therapy Centre recently posted a thank you which highlighted the winner of their golf day, thanked sponsors AND explained what the money they raised would be used for – all in the space of a tweet.
A huge congratulations to our KMSTC 2019 Golf Day champions – @VRSaniCo They won with 110 points. A big thank you to our headline sponsor too @BMIChaucer The event raised £7,785.20 towards our hydrotherapy and physiotherapy services at KMSTC so it was a great success. 🙂 pic.twitter.com/h60reXZfgz

— Kent MSTC (@KentMSTC) July 16, 2019
Thank you posts can also be good ways of sharing a post-event call to action, such as asking for reviews or requesting feedback.
Polls
As well as sharing a link to your feedback form, you can use social media to gather informal feedback by asking a question and encouraging people to respond in the comments, or by using a poll. Twitter and Facebook polls are available to all, although you can add more options to Facebook polls within groups.
By looking back at past festivals and events you can help us plan for the next 3-4 years of F31. What events would you be most likely to attend? Tell us your ideas and we'll add them to our plans! #artfestival #Liverpool #Feedback #Poll #arttherapy #workshop #seminar #exhibition

— Festival 31 (@Festival_31) July 11, 2019
Other ways to involve your followers include asking them to choose a new cover photo for your channel. Sharing four of the best photos from your event and asking them to vote for their favourite works well. You can use a tool like Canva to add a number or letter to the image.
I actually didn't find any examples of organisations taking this approach after the event (if you have, let me know) but this post from a garden centre is a good example to illustrate my point:
Feedback and testimonials
Enthusiasm is infectious and it's nice to share a bit of positivity. As well as replying to them, reshare a selection of positive comments from attendees and don't forget your speakers/artists/authors; if they had a great time and praised you via their channels sharing their post is a great endorsement for your event.
It can also work in reverse with artists enthusiastically sharing event posts: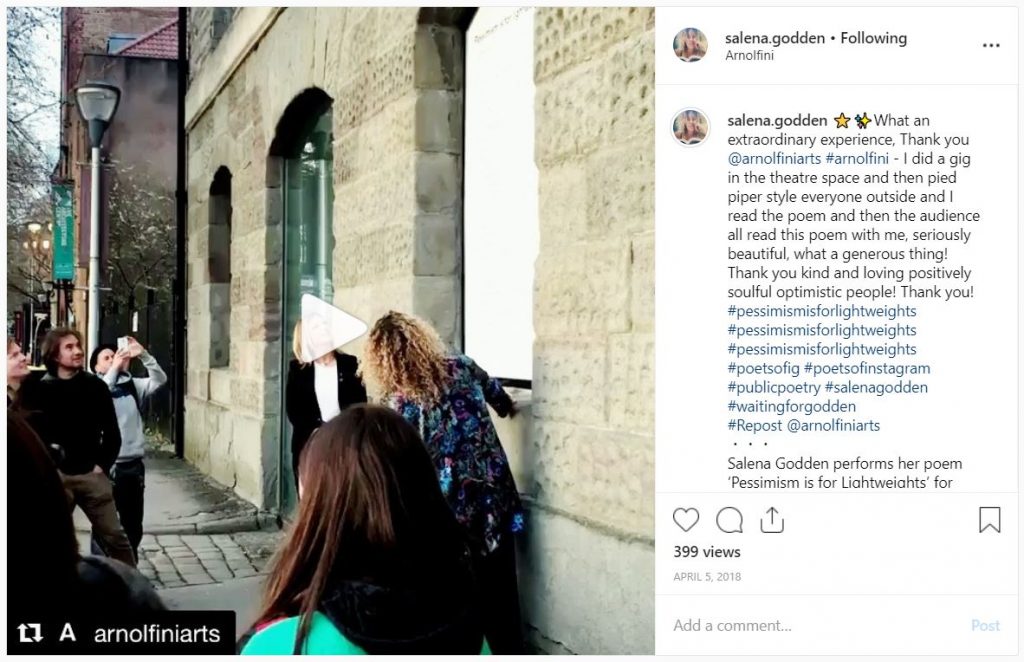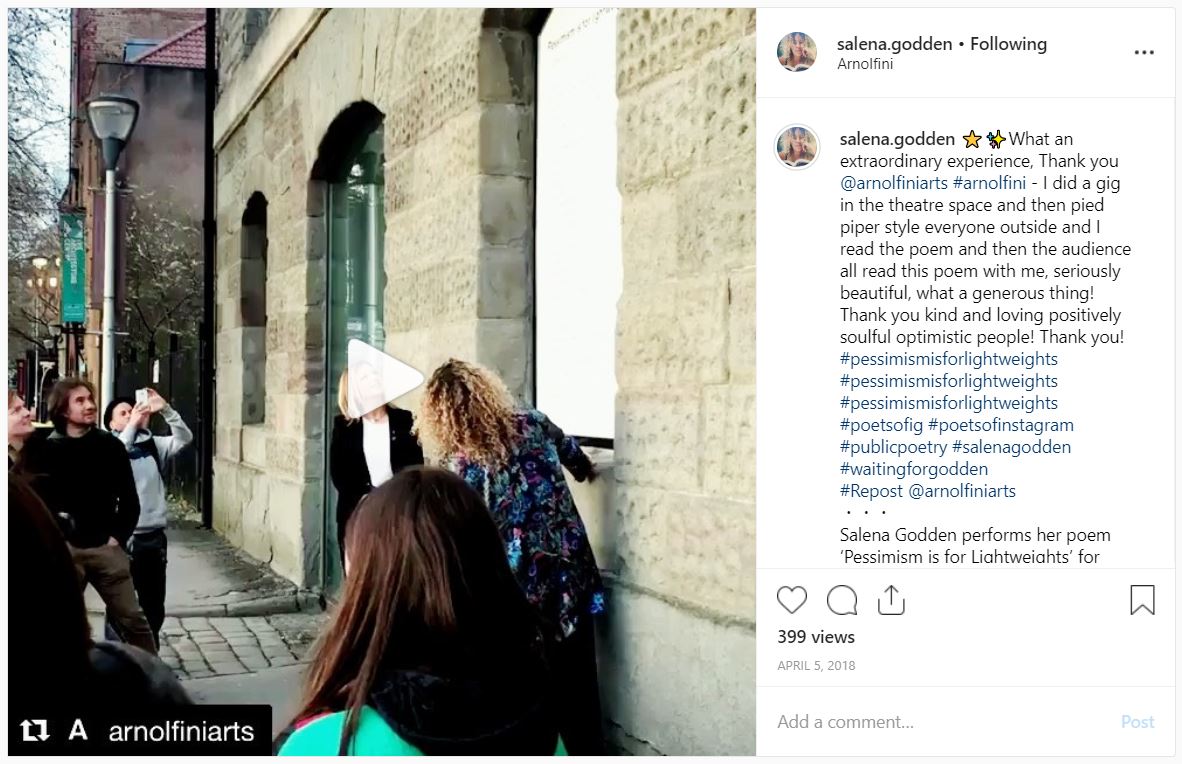 User-generated content
Feedback segues neatly into user-generated content. Depending on the type of event you held you may find reviews, media coverage or blogs you could link to or share with your audience. You're likely to find a raft of photos posted to social media; perhaps not tagged with your official hashtag, so be creative with your searches.
Highlights (short vids and slideshows)
If you don't have videos available from the event, use a selection of event photos to create a slideshow. This is easily done in Facebook (you can even set it to music) but if you have the paid-for or charity versions of Canva you can quickly create animations/gifs.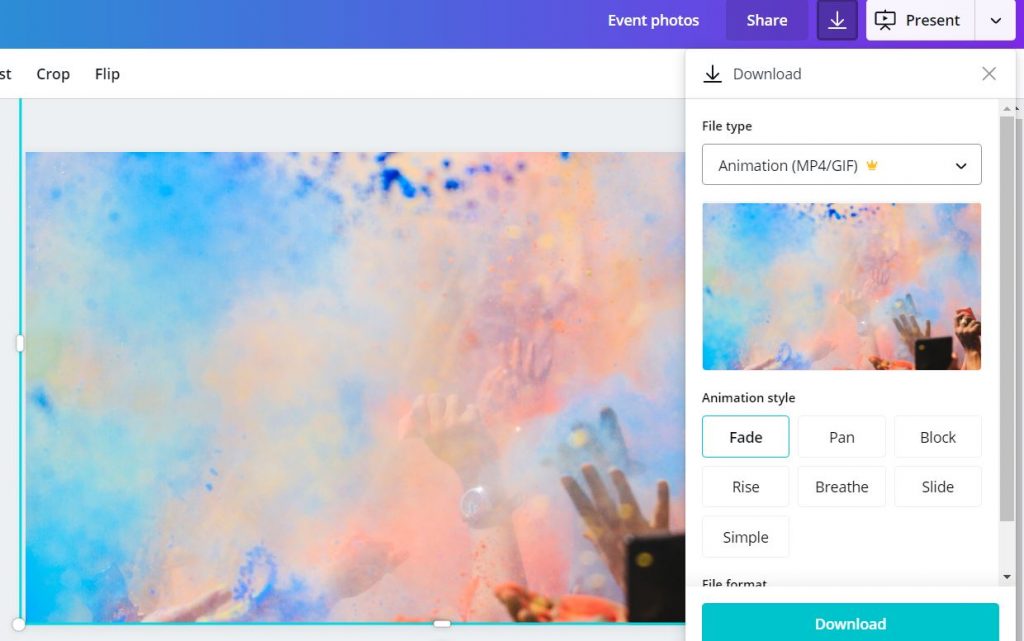 Summaries of sessions
Taking notes during your event can enable you to create acres of content, from quotes you can overlay on event photos, to blog posts exploring relevant themes and topics. The small team from storytelling organisation sounddelivery regularly post blogs after their events and these are a mix of speaker profiles, learning points from workshops and even the scripts used by their presenters:
http://www.sounddelivery.org.uk/2019/03/travon-steadman-we-are-everyones-children-full-script/
Relevant related content (including further reading)
If attendees booked to see a particular speaker, artist or author it makes sense to assume they would be keen to hear more from, or about, them. If you didn't do this prior to the event, set up Google alerts or trawl online for articles, blogs and podcasts about or relevant to your speaker.
For example, this Facebook posts links to a podcast in which the author talks about some of the topics he touched on at the festival:

I hope this has given you a few ideas you can develop to suit your next event. If you have suggestions for unusual post-event content or have taken an approach which worked well for you, let me know in the comments.
*UPDATE – 1 August 2019*
Having shared this post I had some lovely feedback (thank you) and some excellent suggestions for other ways to keep your social media buzzing after an event. Here is a couple of the best ideas:
Create a Twitter Moment
Digital Impact Consultant, Madeleine Sugden (@madlinsudn on Twitter) suggested live-tweeting during your event and then making a Moment or Wakelet to document the highlights. She explained: "This preserves and shares the event with a wider audience, and gives people who attended something to keep and share." Madeleine has written a whole post on How to use a Twitter Moment and it's full of actionable ideas.
Keep the conversation going with follow-up actions
Richard Berks (@DrRichardBerks on Twitter) had a specific suggestion for conference organisers. The freelance science writer said: "'Follow-up actions' can be useful e.g. making introductions; addressing some recurring themes from talks/discussions. Delegates are often asked what they will do differently, but organisers can sometimes facilitate these actions." I especially like the idea of making introductions as it adds extra value to your attendees.
Anything else I have missed?
Tags In