Sharing information is something the third sector does brilliantly well, in my opinion. In the years I have been working for and with charities, I have received so much support from colleagues, even those from 'competitor' organisations.
From straightforward questions about record-keeping to inspiring discussions about fundraising events or PR campaigns, I value the experience of others, and hope that I contribute as much to the various forums, online groups and networking events as I draw down.
As well as face-to-face support, I have a couple of go-to websites for charity-related information, so I was interested to see what newcomer MissionBox had to offer.
The site launched yesterday and seeks to connect people like me with my non-profit peers in order that we can inspire one another and find answers to burning questions. I know what you're thinking: the likes of Knowhow Nonprofit and others already offer a lot of helpful advice and inspiration.
Where MissionBox could be useful is in providing inspiration from across the US charity sector and beyond; it's aiming to be a global resource. I think it does us good to look beyond the UK and we can learn from what colleagues are doing elsewhere. Our practices may be different on paper but we have much in common, especially the desire to deliver the greatest impact.
So far, I have spotted articles written by charity leaders about challenges they have overcome, as well as a collection of case studies on topics such as engaging storytellers, accessing in-kind support and building capacity. It's early days but I can imagine these are the resources I will look at most often.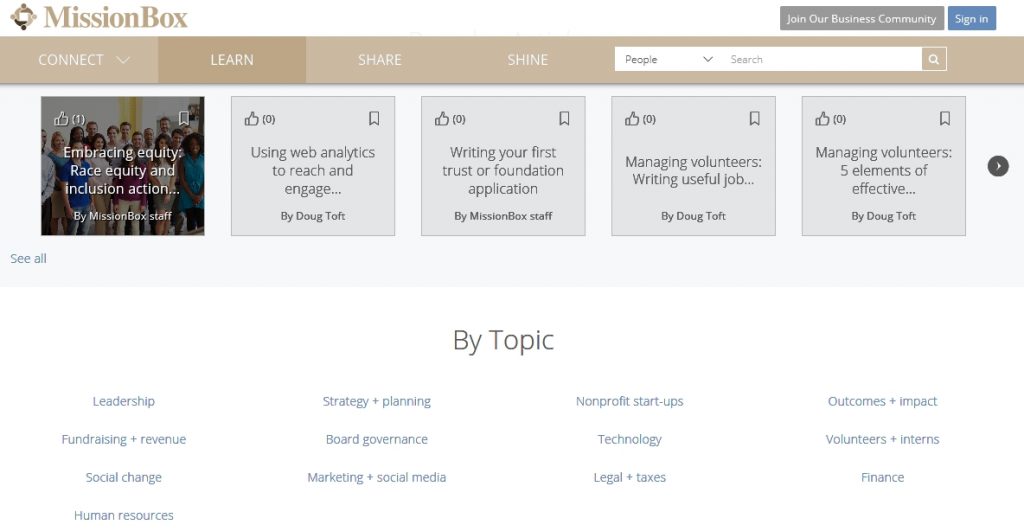 Other aspects to check out are the MissionBox Grants and the 'Learn' section (pictured above) which already has a number of how-to guides that are searchable by subject.
Visit the MissionBox site and see what you think.