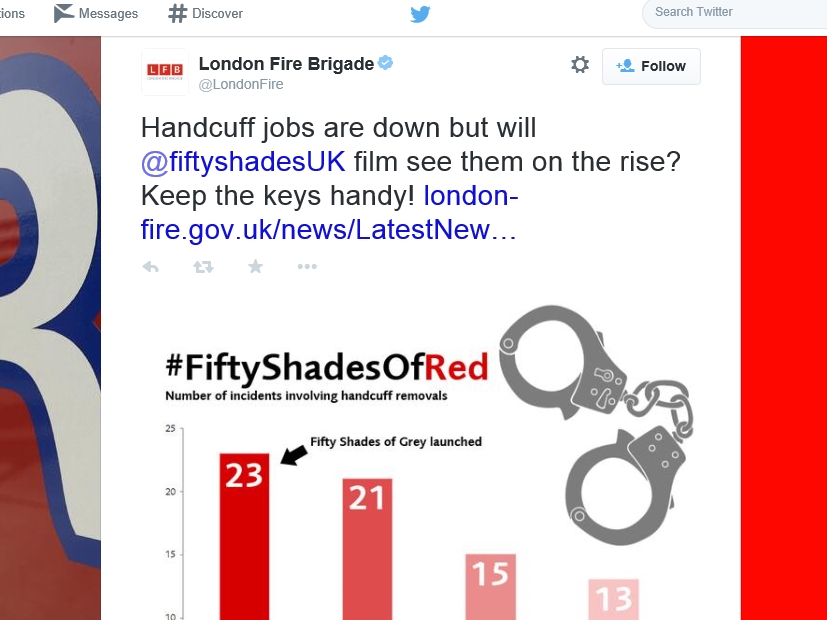 Handcuffs, hashtags and headlines
Ahead of its cinema release this weekend, Fifty Shades of Grey is attracting its fair share of media coverage and, in the hope that some of the attention will rub off on them, various companies are clamouring to align themselves with the themes of the film.
In most cases the fit is obvious: lingerie and perfume stores, adult toys, and so on. But who'd have thought one of the emergency services would jump on the bandwagon?!
Props to London Fire Brigade (LFB) and their ongoing #FiftyShadesofRed campaign, which has been raising awareness of the perils of misusing seemingly innocuous household items since the first instalment of the Fifty Shades trilogy was released a few years ago.
The campaign resurfaced this week when LFB revealed they are still receiving daily calls to assist "people in compromising situations". Now the service has promised to use social media to "chart the most embarrassing call outs and give safety tips".
Salacious tales of people trapped in handcuffs are of course what has created headlines, but reading the original press release, such incidents are in the minority. In reality, fire fighters are far more likely to be called to a child stuck in a potty, than to men with their bits wedged somewhere they probably shouldn't be. There is a wealth of advice available on the LFB website but it amused me that the top tip offered in the release was along the lines of: "if it doesn't fit, don't force it."
To be fair a sense of humo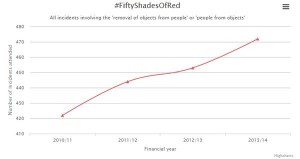 ur is very much in evidence throughout the material LFB has put out. Tweets have featured inventive images and graphics, including possibly my favourite chart of the week: "the removal of objects from people or people from objects".
All the coverage I have seen quotes a statistic on the number of cases of people getting stuck or trapped in household objects: 472 since 2013, at a cost of around £300 per incident. I'm reading more into this and wonder if, in times of unprecedented cuts to the emergency services, this tongue-in-cheek campaign offered an irresistible opportunity to reinforce important messages about budget cuts vs. demand?
Regardless of motives, the campaign looks like it will stick around for at least as long as the cinema queues. So Londoners, remember: if you're heading off to the flicks this weekend, think twice before re-enacting any scenes from Fifty Shades. If your rescue ends up on the London Fire Brigade Twitter feed it won't just be the hashtag that's fifty shades of red. 
Tags In