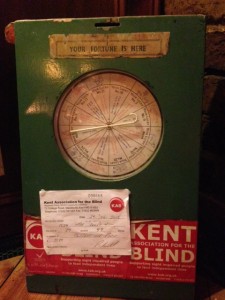 Broadstairs Folk Week has a special attraction for me and my friends. No, it's not the beardy banjo-strumming bands, the specially brewed craft ale, or the six-deep queues at every bar. It is, in fact the fortune telling charity collection box in the Dolphin Pub.
Of course the box is there all year round, but Folk Week is when we have our traditional team photo gathered around it. Even when I inconveniently moved to Yorkshire, I still got sent the annual photo of the fortune telling machine. (Okay, so maybe we are fans of the special ale too…)
So, why are we so fond of what is essentially a charity collection box? Take a look! What's not to love?
In goes your coin and seconds later, your destiny is determined. I actually don't remember a time when it has given me anything other than the advice to 'always go straight home'. I'm yet to take that advice on board.
Observant types amongst you will have spotted that it's a collection box for Kent Association for the Blind. The eagle-eyed amongst you will see it had been emptied in June and at that point contained £39.99 (I'd have stuck another penny in, in the interests of neatness).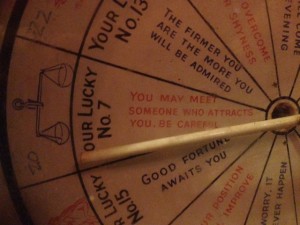 So my question to you is: is this in fact the oldest, quirkiest collection box in the land?
Maybe you have an example of an older, more quirky model – I don't believe that's possible but, give it your best shot. And of course I'm intrigued to hear from Kent Association for the Blind as to the origins of surely the most special of the 6000 collection boxes they currently have in circulation.
Happy fundraising, folks and remember, always go straight home.